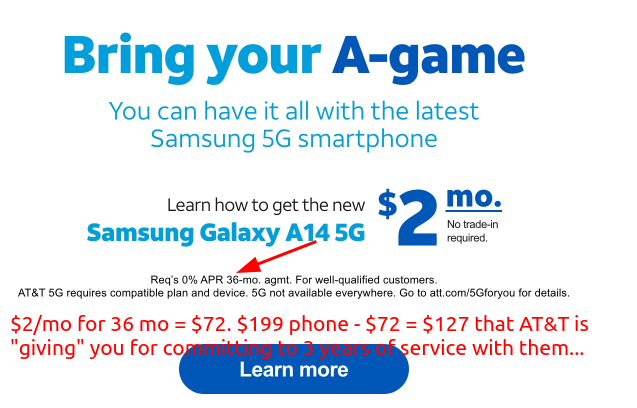 Gotta love AT&T's "promotions" like this… $127 to hook you for 3 years…
And just a few months ago AT&T was offering the Galaxy S22 (~$800) for "free" with the same 36 month agreement. I ended up getting the S22 Ultra w/ that promotion and pay like $5/month after their credits.
Besides, the A1x series is their cheapest most barebone phones. An A3x or better-yet an A5x is better. I have an A32 (3 series, 2nd gen) as a backup phone and it's amazing for its price. I'd consider an A33 (3 series, 3rd gen) or A34 (3 series, 4th gen) as a backup, but never an A14.
But I'd also just flat out buy the phone used 2-3 months after it's released, the price drops dramatically. I'm betting you could pickup that "A14 5G" that's $199 new, used but in good condition for $75 in a few months; IF that's what you wanted.
IMHO it'd be better to pay that "$199" for a used, in good condition, A34 or A54 phone in a few months.
Like
Comment
Share
---
Filed under: Personal - @ 2023-01-19 4:21 pm
---