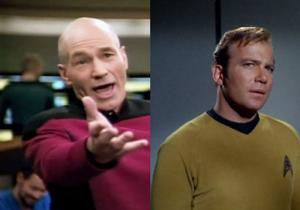 Just a personal rant. Almost everytime I go to search for Star Trek themed items, or merchandise, etc. etc. I keep running into the crappy Original Series stuff. Don't get me wrong, I admire TOS "The Original Series" (or as future starfleet officers refer to it "Those Old Scientists") for what it did, being a multi-gender and multi-cultural Sci-Fi series in the 60's was not easy. They did amazing work, but the 60's technology and the tight budget severely limited the quality of the decoration and style.
When I search for Star Trek themed shower curtains, or Christmas Tree, or wallpaper or whatever, I want TNG (The Next Generation) and beyond. Not that old series. I want "ultra modern" bordering on "futuristic" style of decor and items. Not 60's retro trying to look and imagine what the future will be like style of decor.
Anyways, as a child of the 80's and 90's I want Star Trek TNG and beyond themed items and merchandise and style of decor, I wish there was a way to filter out all the TOS stuff.
---
Filed under: Personal - @ 2022-12-02 3:50 pm
Tags: star trek
---