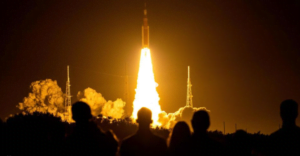 I got to watch the launch late last night (EST). I was expecting it to launch around 1:05am and prior to that was a very hectic 30-40 minutes as I installed SW updates and app updates and such on my Oculus Quest 2 (which I haven't used in many months), my nephews Oculus Quest 2 and my sons OG Oculus Quest (my former unit). All of them haven't been used in a while so I was updating them, and then apparently Meta Horizons requires some new additional authentication and linking and such you have to do with your phone via a website (so annoying…) and so yeah, 30 or so minutes trying to get it all working so we could watch the launch via VR at 1:05am.
Then I learned Meta Horizon's requires a Quest 2, so my son was out. I just sent a live youtube stream to the television in the living room for him to watch. Then about 10-20 minutes prior to launch we learned it had been delayed, surprise surprise, due to a hydrogen leak. The launch window was 3 hours, so it could launch as late as 4am I think? Anyways, way too late for the kiddos, so they went to bed disappointed.
I was about to call it quits myself after goofing around w/ my Oculus Quest 2, updating other apps and such, when they suddenly announced they "patched" the leak and everything seems good and they're going to make another attempt. Long story short, that was apparently the last leak and that big beautiful, over budget, much delayed, rocket launched into space. I watched it both on my Quest 2 and via the youtube live stream.
---
Filed under: Personal - @ 2022-11-16 4:49 pm
---